Joined

Feb 12, 2014
Messages

69
Reaction score

0
Points

0
Me at the most amazing corridor in the DRI (part that I managed to explore).
In my brief urbex life I have to experience a wide range of feelings. There have been moments where I felt totally happy, lost in wonder, complete, mesmerized and son, as well as scared, stressed, tired, annoyed. Strangely enough I have never felt bored, yet.
What I keep from my visit at the Derbyshire Royal Infirmary on the first weekend of March 2014 is a surreal mixed feeling of absolute excitement and utter disappointment. And as the writer that I claim to be (among other things), I will keep the reason why hidden until the very end of this report.
evil3:
So, as always, a little piece of history taken from Wikipedia.
The London Road Community Hospital, (formerly Derbyshire Royal Infirmary), is a hospital in Derby, part of the Derby Hospitals NHS Foundation Trust. It is based in the city centre. The other main hospital in Derby is the Royal Derby Hospital.
During the year that he was Mayor of Derby, Sir Alfred Seale Haslam managed to replace the old William Strutt Infirmary with the Derbyshire Royal Infirmary. In 1890 there had been an outbreak of disease at the old infirmary and Sir William Evans, President of the Infirmary arranged a three day inspection which condemned the old building. When Queen Victoria came to open the new hospital on 21 May 1891 she knighted Haslam for his services and gave permission for the term "Royal" to be used.
There, not much and I have to admit I didn't spend hours researching so I apologize.
This explore came to be as part of a meetup organized through IG with several people. All in all, there were 14 of us and I think none of us had ever gone exploring with such a big group. People behind planning this were confident the DRI would be more than capable to accommodate and boy were they right.
Despite a recent report in the "BOOOO" Daily Mail by a "BOOOOOO" guy (I dare not call him an explorer) who sold his pics (time and time again) for shameless self-promotion disregarding what this sort of publicity may do to all explorers, we arrived in the city of Derby all confident and after parking at the nearby mall, this band of explorers, armed with cameras and tripods made the less than 5' walk to the side entrance of the DRI.
Getting in was easy, one of the easiest so far. Didn't even have to lift my leg.
Initially I was overwhelmed by the sheer size of the buildings as the first thing I saw was the nurses' block, a humongous and ugly building, surrounded by many more smaller ones. My thought was "how the hell are we going to see everything?". However, we kept moving further in the complex as Tom who had been there the week before kept the group going towards the actual hospital building. Not sure if there was a way up the rooms and what one can find there, Tom said there is nothing there if I remember correctly, and despite my enormous, innate curiosity, I stuck with the group. So if any of you has been up the nurses' block, please let me know about what you found.
A few more steps forward and we saw the hospital building.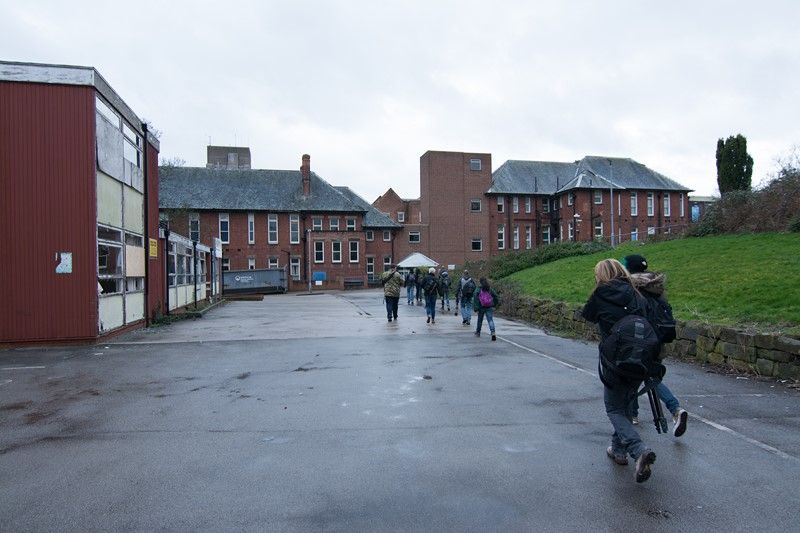 The moment we got in I felt as if I was in Disneyland, where you just want to go everywhere and see everything but your mom keeps you tight by the hand and you just have to go with your parents' own pace. But no parents now so without thinking much (I have to admit) I rushed for the first sign of stairs I found and soon found myself separated from the group (though I've had some random encounters with 2 other pairs of explorers who looked totally out of place).
DRI is HUGE. Ok, I haven't been to that many sites yet and I am sure there are REALLY huge places, but this one felt really big. I spent 4 hours there and for the most part I saw no-one, heard no-one. But DRI was/is in not that bad state for the most part. The decay is obvious but not extreme, so in a sense I felt more like a kid entering some old place (not necessarily abandoned), rather than an urban explorer. Nothing negative about that feeling, just pointing out the fact that DRI at times and certain bits felt as if I was at a working place on a Sunday (well it was a Sunday after all...hmmmm).
I am not the best person to report on the uber cool findings at the DRI. Later that day when the group got together I realized I had missed some really interesting bits and pieces, still what I got out of my visit was CORRIDORS and ROOFTOPS!
It's amazing how a month later and several explores later, I can recount what I did step by step though I won't bore you with it all.
I will keep it brief.
So, corridors, like any hospital that respects itself, the DRI had plenty and even though they were not the kind of decayed corridors/hallways one finds in the old asylums and hospitals, they had a rather unique feeling of desolation that the former sites never give me. I found that a more recent (and modern) derelict place makes me feel more on my toes than the really old ones that are in total decay (like Birkwood).
The awesome elevator.
Where is the spin class?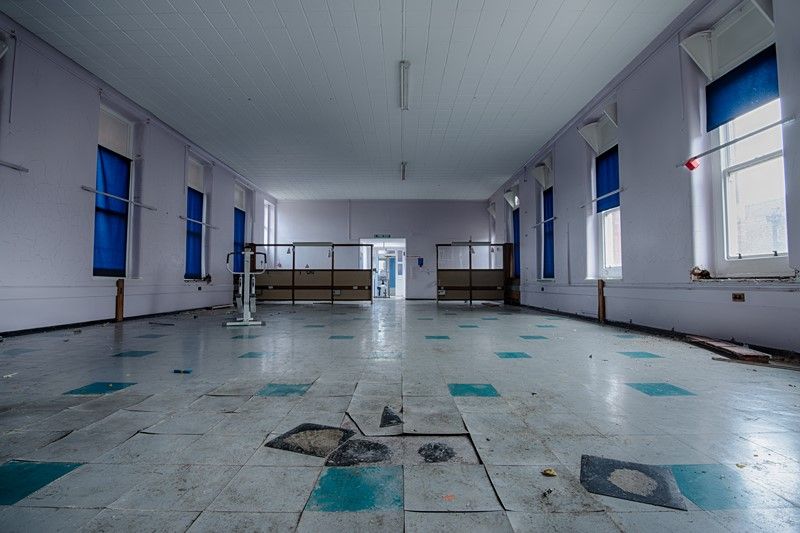 Another thing I enjoyed in the DRI was fire extinguishers. I saw at least 30 and at some point had some intimate role-playing with a few (why not?).
Moments before I got down and dirty with the fire extinguishers.
Lots of points in creepiness I have to award at the children's wing. Most parts were pitch-black and using a torch to navigate myself I often would find myself looking at disney characters. Like I always say with my brother, it's amazing how grownups have associated anything relating to children and childhood as creepy when encountered in abandonment.
Run Peter! Run!
The scariest (?!) bit was the operating theaters that were pitch-black and while in there using a torch and my camera's flash to document the place, the thought of all those people who would have died in these rooms came into my head and yes, it was quite unpleasant. I have no problem with morgues, dead animals etc. because they are dead already. But the thought of suffering and pain really gets to me.
Can you hear the squeaky noise?
One of the corridors outside the ORs.
Another corridor that really needs alterations.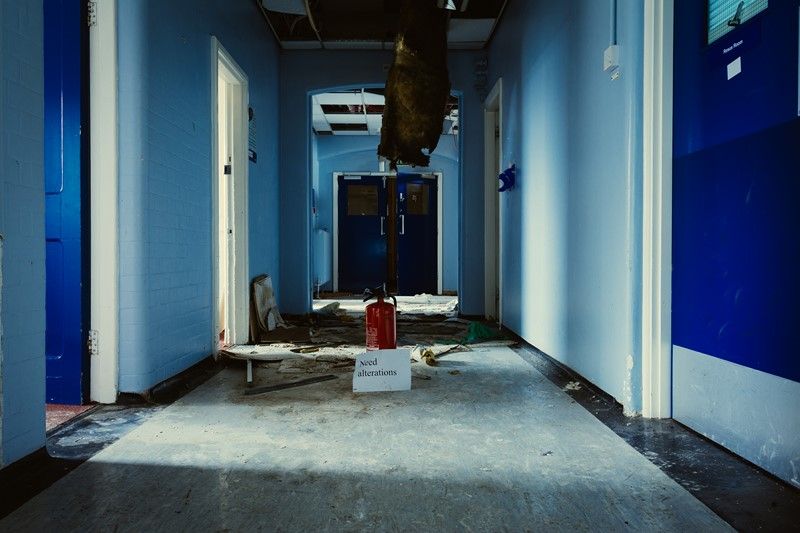 Yet another corridor.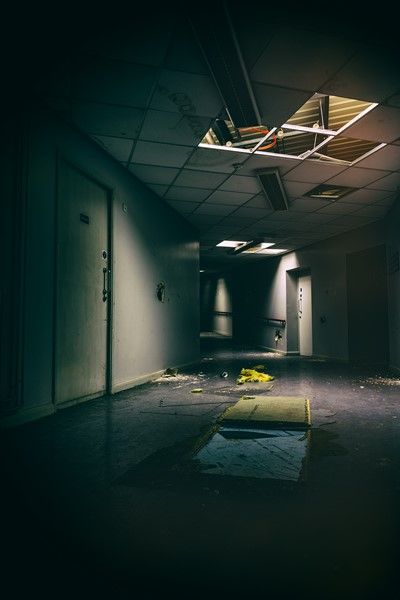 Ha! You were expecting a corridor.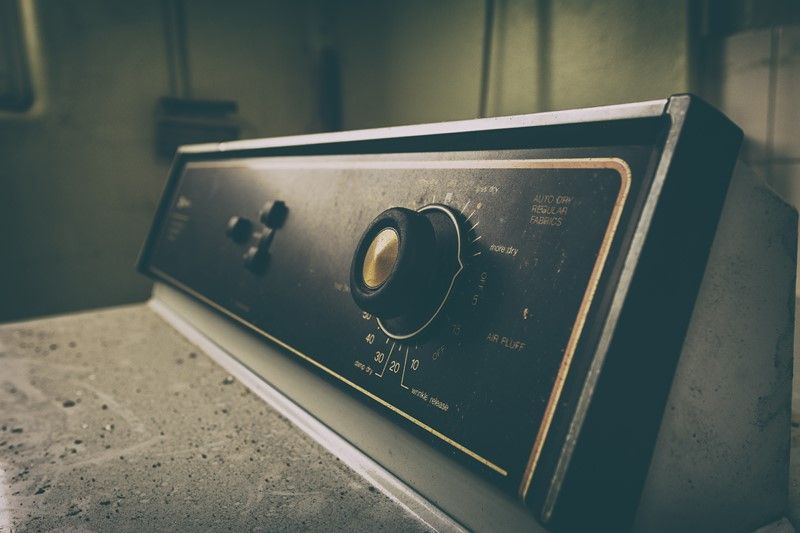 At some point I found a large staircase that looked like one you would find at a huge parking lot (no paint job done, like it was just finished) and there was a strong breeze coming from the top so immediately I thought "ROOFTOP". I marked the spot to come back later because I just love rooftops. However, I was not to come back to that bit, but actually got on the rooftops through a different route.
While at the X-Rays I saw light coming through a hole on a wall and sticking my head I saw the cafeteria. That was actually quite funny.
Peek-a-boo.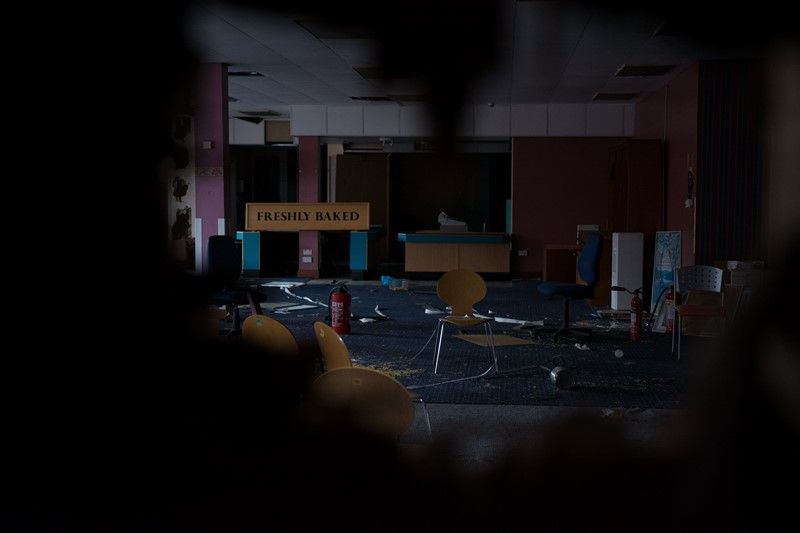 I soon found myself in the cafeteria which can only be described as the playground of people who suck at set-ups. The floors were covered with all sorts of pasta, a table was covered in dozens of keys, some xmas ornaments were laying somewhere, broken windows all over, and, of course, fire extinguishers. As I always like to do I tried to picture this place back in the day where it would be filled with people. Too much Grey's Anatomy though made me start thinking of love quarrels and I snapped out of it moving on to the rooms at the back where I found all sorts of things, like old photos of the cafeteria with people who probably were the staff, a ledger with names and sums of money taken out of the (now empty of course) vault, a sex and the city dvd and huge cans of red beans still good and sealed but thank God I am not at that point yet.
The cafeteria.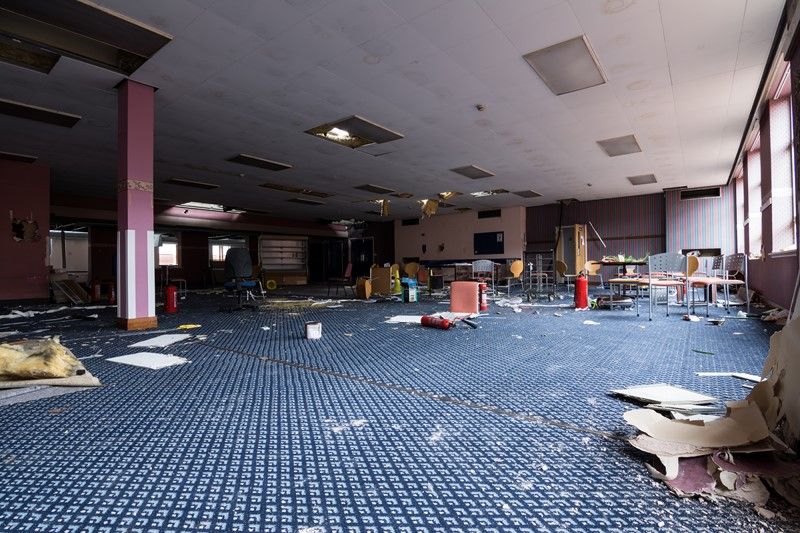 That would have been quite useful actually.
Photos at the cafeteria back rooms.
And then I found a room where outside the broken window I saw a metal ladder leading to the rooftop. No second thought. Not minding the sharp shards of glass I climbed out and finally realized why I have been going to the gym as I had to literally pull my entire body (all 195 lbs) up a ladder whose bottom was shut tight in order to keep people from climbing. But I did and I just loved being up there on the roof. I think I could have stayed up there for hours just enjoying the moment. But it was getting late and I realized I really needed to find the rest of the group.
Me being cocky on the first level of the rooftops.
Higher and higher.
Now I tell you, getting back to where I started was not easy. After initially getting lost, I managed to get back to the starting point and the group. It turned out the DRI had some quite risky bits as one of us managed to fall through a floor and now has all the nice scars (actually a hole) to prove it.
After stepping outside we moved to the other buildings and as we entered one, I, again, managed to find myself separated from the rest of the group. Maybe it's an inner calling to keep people out of my shots.
evil3:
However, I found myself at the nursery and that was WICKED! You all have experienced that sense of "why did they leave all these things behind???" on several occasions. Well that was me at the nursery and ok, I get it, you are not going to take ALL the childrens' painting and whatnots from the boards and walls of the classrooms, you will not clear out medicine etc, and yes, the occasional red child's jacket will be left behind to creep you out, but why for the love of me they left all the photos of little kids behind is beyond me. I don't know maybe I am weird but I would hate my kid's photo being left in a derelict building, let alone think about who might get in and get his hands on these.
One of the classrooms.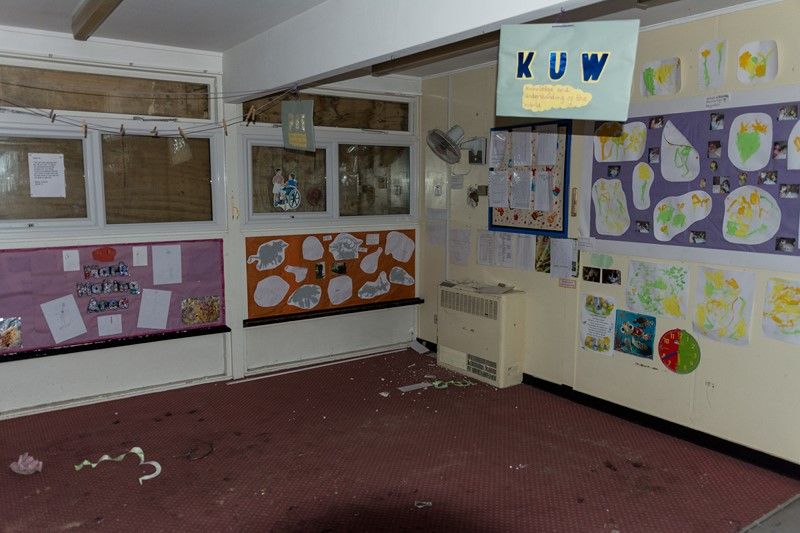 "The red jacket"
A spoonful of sugar helps the medicine go down.
This was right next to the nursery. If anybody can enlighten me with what this actually does I would be grateful.
After that, we stepped back out where a few of us had just encountered a secca who informed them that they would be demolishing the place starting next week. I believe the DRI is still there standing. If anybody knows anything let me know. I would love to get back to it one day as getting there is so darn easy.
So why the negative feelings about my experience? Because I saw just a 15%-20% max of the entire complex and building. There is nothing more frustrating then closed shut doors and bricked windows, giving you that feeling of "AAARGH I NEED to see what is behind all this!". But far more annoying than that is actually being in a site that you fall in love with more and more by each passing minute and then running out of time.
However, I have no regrets. Maybe I am stupid, maybe I am too arrogant for my own good, but show me a locked door and tell me that there is nothing of interest behind it, I will still get inside. I just NEED to see with my own eyes, therefore I feel I will always be running out of time. I need to open every door, lift every trapdoor, climb every ladder. Explore everything.
PS. I apologize for the length and most probably boring details.